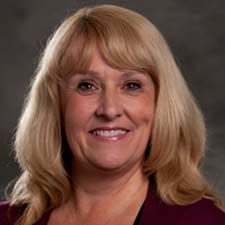 "I've learned that people will forget what you said, people will forget what you did, but people will never forget how you made them feel." — Maya Angelou
Sherry provides executive level support to the Foundation's CFO, serves as the CFO's liaison to internal and external audiences, and manages numerous projects. When she isn't tackling the logistics and administration of the board of director meetings, she's assisting the CFO with governance oversight or supporting the annual work plans of the investment and audit committees. She also develops and monitors annual budgets for finance and administration and several committees. Sherry especially values and appreciates the opportunities she is given to support the mission-related investment strategy at NWAF, contributing to positive social impact.
She is a Twin Cities native, growing up in a large, close-knit, working-class family that instilled in her an appreciation for education, hard work, music and the arts, and a love of children—their creativity and the simple joy they bring to every day. She is grateful for the opportunity to play a part in assisting families, enriching lives, and providing resources and hope to individuals locally and across the region.
With over 20 years of experience in finance, a bachelor's in accounting from the College of St. Catherine (now St. Catherine University) in St. Paul, MN, and a Mini MBA for nonprofit organizations from the University of St. Thomas in St. Paul, Sherry is well equipped to deal with the budgetary and project management aspects of her job. Most recently, she was director of investment administration at Ameriprise Financial, which involved multistate project management and leadership of administration and finance staff. She also held positions in accounting, financial analysis, corporate tax, and investment administration.
Sherry lives in Blaine, MN, with her husband. They share a love of family, traveling, and enjoying the outdoors—especially hiking, canoeing, and golf. With a lifelong passion for music and the arts, she values the contributions of others; she herself plays the piano and other instruments.