A couple of years ago, Ruby Pope couldn't keep track of her savings, money she earned from small jobs and gifts from her family.
Coins and dollar bills were often scattered all over the house and her spending priorities were a bit out of focus.
Today, the 13-year-old Quinault Indian Nation youth is far from being loosey-goosey with her cash. Her money now goes into a piggy bank and it is destined for far more important things, like college.
Pope's money-management transformation got a huge boost during a financial management and business principles summer camp funded and organized by Taala Fund, a Native Community Development Financial Institution (CDFI) that works with the Quinault on Washington state's Pacific Coast.
The camp gave tribal children an opportunity to learn the value of saving money, getting a college education and starting new businesses on the reservation. The lessons underscored the importance of economic development in tribal lands, said Natalie Charley, Taala Fund's Executive Director. As part of the lesson plan, children created a T-shirt business, with original prints drawn by Pope and others that raised more than $1,000 in sales for their school.
Native CDFIs have become an important ally in the economic development and prosperity of Indian communities—powerful agents of economic change. Northwest Area Foundation has supported Native CDFIs across its region to help create greater economic opportunity in tribal lands.
Healthy and well-funded CDFIs can do more for their communities. They can make more loans available to small businesses and offer unique programs, such as Taala Fund's efforts to educate youth about money issues.
The Foundation's Access to Capital Portfolio, one of four interlocking portfolios, supports Native CDFI grantees and their networks—groups that loan funds at affordable rates—to bring access to capital to communities not served well by commercial banks and lenders.
At Taala Fund, education is just as important as making loans to small businesses, Charley said. "Just look at Ruby. She has grown so much, and there's so much more she wants to accomplish. The summer camp created a lot of positive impact in our community. The kids have responded really well. For some, the lessons went much farther than simply learning about saving money."
"Kids her age don't think about these things. And at their age, they're not necessarily responsible about money. The summer classes opened their eyes and taught them lots of skills."
Kierstin Pope
Ruby's mom
Ruby's mom, Kierstin Pope, said her daughter has become more goal-oriented and is dreaming big after her classes.
As for Ruby, saving her nickels and dimes has a purpose: help pay for her dreams.
"I want to be a pediatrician," the 8th grader said. "I want to travel. Maybe I'll join the Air Force," she said, her smile as bright as her future.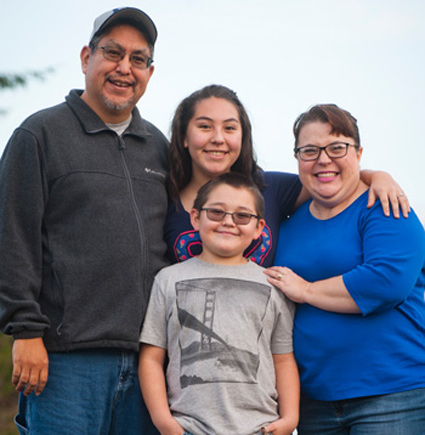 Taala Fund Grantee Story
Read the full profile about Taala Fund's work and how it aligns with the Access to Capital Portfolio.
Read the story