NWAF's First Quarter 2016 Grants Fund Enterprise Development in Low-Income Communities, Including Latino and Asian Microenterprises
We approved 20 grants worth $2,032,280 in the first quarter of 2016. Funding focused on grants within the Foundation's Enterprise Development portfolio, which expands access to good jobs and financial capability for communities who need it most through funding for social enterprise and microenterprise.
In particular, our microenterprise grantees are individuals who use self-employment or independent work (microenterprise) as a means to support their families and build assets through business ownership. Grantees' work also provides services that improve the financial capability of people who engage in microenterprise.
Our grants support microenterprise development organizations in our region that are prepared to grow, change, and learn through capacity-building investments that allow them to advance the financial capabilities of individuals across the microenterprise spectrum. This range spans part-time self-employment to full-time formal self-employment to microenterprises employing other workers in addition to the owner.
This quarter, we're highlighting three microenterprise grantees from the Enterprise Development portfolio:
Asian Economic Development Association (AEDA), of St. Paul, Minnesota, will receive $200,000 over two years to develop, strengthen, and grow the number of Asian small businesses and microentrepreneurs in low-income neighborhoods in the Twin Cities. AEDA combines local economic development, neighborhood revitalization, creative placemaking, and business development strategies to help lift people out of poverty and achieve economic stability.
Rural Community Development Resources (RCDR), of Yakima, Washington, will receive $200,000 over two years to support its efforts to build business capacity in immigrant and Latino communities in rural Washington state. RCDR provides business coaching, microloans, and business incubators to low-income, underserved immigrants seeking to start a microenterprise.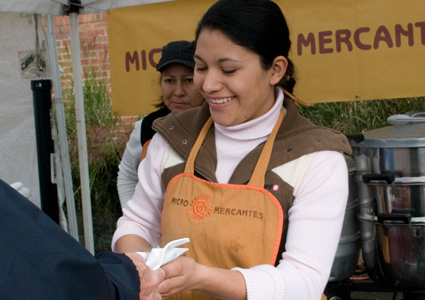 Micro Enterprise Services of Oregon (MESO), of Portland, Oregon, will receive $200,000 over two years to support its work helping clients gain self-sufficiency through entrepreneurship. MESO provides customized and one-on-one business assistance, individual development accounts (IDAs), credit building, and lending. It also conducts market research and development. MESO serves underrepresented, underserved, and low-income individuals in both urban and rural counties.