Last May, we awarded grants to 13 amazing nonprofits running social enterprises. These social enterprises serve their missions by investing in strong, thriving communities.
Several of the grantees provide jobs for younger people, typically ages 15–23. These job opportunities are the first ones that many of the youths get, and the experience can be life changing—they gain hope, job skills, and a little spending money.
We recently caught up with three of the grantees to share more with us about the impact of their work on the communities and the youths in their programs. By email, we interviewed: Michelle Horowitz from Appetite for Change; Julie Garreau from the Cheyenne River Youth Project; and Sara Weihmann from New Avenues for Youth.
In Part 1, we're excited to share this conversation with Molly Cherland, the Development & Communications Manager at Appetite for Change in Minneapolis. 
Who do you serve and why? And what are their challenges and dreams?
Appetite For Change was founded to address food justice issues affecting the African American community living in North Minneapolis, America's fifth largest food desert. Our programs and services are built directly on the needs and interests expressed by more than 250 community members. At our first shared meal events in 2012, we learned that residents want more urban farms, full-service dining options, and better access to fresh, local foods.
North Minneapolis is a neighborhood saturated with fast food and convenience stores, with 60,000 residents serviced by a single grocery store. The Northside community wants what any community wants in a food system: farmers markets, food trucks, cooperative grocers, restaurants, community gardens, shared commissary kitchens. We believe food is at the heart of thriving communities.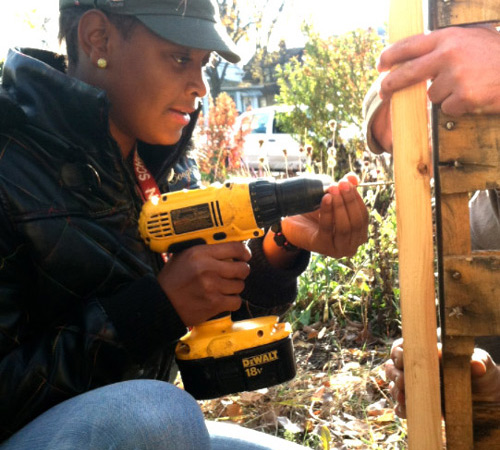 Beyond the job experience, how else do you assist youth, and what impact does this have?
Appetite For Change activates leaders within the North Minneapolis community through its Youth Training & Opportunity program and through its on-the-job culinary and food-service training at Breaking Bread Café. Youth are growing more than 9,000 lbs of fresh fruits and vegetables every summer. They're getting their hands in the soil, making informed choices about what they eat, learning culinary skills, bringing new recipes and new habits into their homes and schools. Beyond employment, youth and adults engaging with Appetite For Change are experiencing a new way to connect with food and with community.
What advice do you have for people who are running similar social enterprises, or are thinking about starting one?
Solutions are in the community. Make space. Listen. Then let the community lead.
Note: This interview has been edited for clarity and length.
Social Enterprise Can Change Your Life?
Grantees Tell Us How
We interviewed three grantees to share the impact of their social enterprise work.
Part 1 of 3
Appetite for Change