In the last quarter of 2018, we awarded 91 grants representing a total of more than $9.1 million.
The new awards bring our total grantmaking for the year to just over $16 million spread among 200 grants for organizations throughout our service region—Idaho, Iowa, Minnesota, Montana, North Dakota, Oregon, South Dakota, Washington, and 75 Native nations. The grantees reflect our focus on expanding economic opportunity in under-resourced communities by supporting organizations rooted in the communities they serve.
More than $2.8 million of the fourth-quarter grants supported our Enterprise Development portfolio, which invests in organizations that drive entrepreneurship and provide jobs, ownership, and training opportunities to people who've been denied them historically.

AICHO offers Duluth's Native community access to affordable housing. Collective health and vitality, sovereignty and self-determination, and sustainable solutions that begin at home are at the heart of AICHO's philosophy of economic development.
Toward those intertwined goals, AICHO received a two-year $200,000 grant to launch the Wazhashk Azhegiiwe (Muskrat Returns) Indigenous Economic Development Initiative.
The project will focus on strengthening AICHO's existing social enterprise activities while developing new efforts. A key facet of the program is cultivating Native entrepreneurs and building infrastructure that will nurture skills around business creation and, by extension, encourage growth in entrepreneurship. AICHO plans to document and share the program with communities interested in replicating its approach.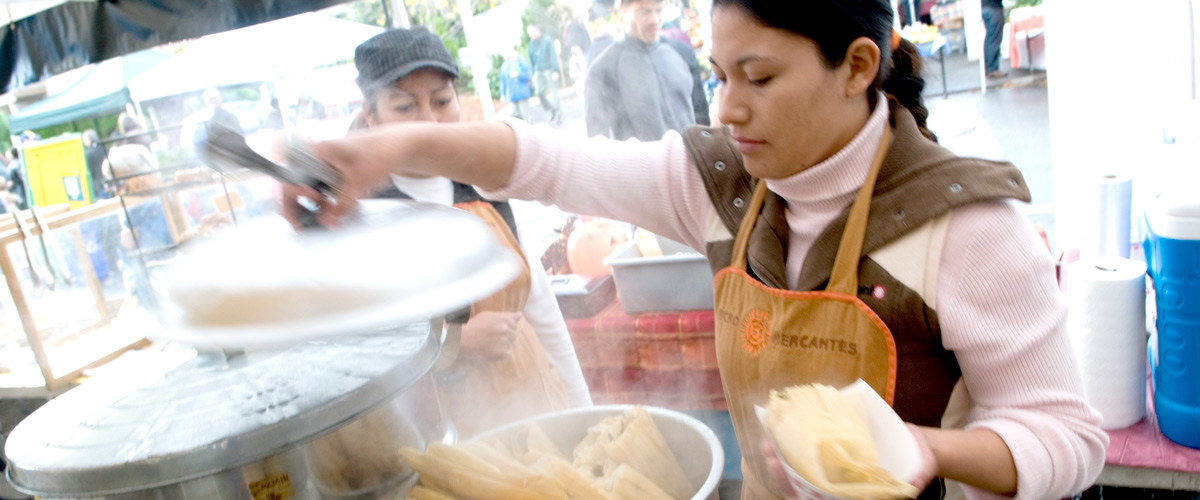 Rural Community Development Resources (RCDR) cultivates entrepreneurial skills among the Latinx immigrant population in rural Washington.
Located in the rural community of Yakima, RCDR will use a $200,000 grant to grow sustainable microenterprises and boost economic self-sufficiency in rural Washington state.
The funding will support culturally relevant training in English and Spanish, as well as individual assistance, for Latinx immigrants interested in entrepreneurship opportunities (for example, by providing assistance with business plan strategizing).
During the two-year grant period, RCDR's project will help improve financial capability, a key aspect of our Enterprise Development portfolio, by enabling RCDR to target its services with an eye toward cultivating low-income immigrant- and Latinx-owned businesses in rural communities. RCDR's services will support the ability of these businesses to improve operations activities and increase workforce opportunities. RCDR estimates this will create 25 new jobs.

First Nations Oweesta Corporation: $1M grant for capital pool is a big highlight of 2018 grantmaking.
Our fourth-quarter grants were the culmination of a year of support for change-making programs across the spectrum of our grantmaking approach.
Earlier in 2018, we awarded a $1 million grant to Oweesta—the only Native community development financial institution (CDFI) intermediary—to support its innovative $10 million Native CDFI Capital Pool. Oweesta offers financial products and development services exclusively to Native CDFIs and Native communities.
Oweesta's new capital pool will help meet the growing demand for Native CDFI financing, and therefore advance economic, social, and cultural prosperity in Indian Country. Oweesta and our 17 other Native CDFI grantees in 2018 weave together culturally informed relationships that can bridge traditional cash economies to the financial mainstream. By providing capital and financial assistance, education, and training, Native CDFIs lay the groundwork for investment in Native communities. Native CDFIs are game-changing partners for advancing long-term impact and sustainable economic growth in Native communities.
Funding for the grant resulted from a collaboration with the Federal Home Loan Bank of Des Moines (FHLB Des Moines), which is providing $5 million of support for Native CDFIs to advance economic development on Native lands.