The Native CDFI Capital Access Convening will bring together stakeholders who share a commitment to the financial and cultural well-being of Indian Country.
First Nations Oweesta Corporation (Oweesta) will host its fourth annual Native CDFI Capital Access Convening in Lihue, HI. The convening is designed to shine a light on how Native community development financial institutions (CDFIs) propel positive change in Native communities.
This year you can be a part of the convening from afar through livestreaming of selected convening events on Facebook Live. You'll be able to hear firsthand the observations, questions, and discoveries of the convening, including the chance to learn how Native CDFIs are uniquely poised to foster thriving local economies because of their understanding of the historical and cultural context of Native communities.
Oweesta: Two decades helping to build a Native CDFI movement.
Oweesta is the only existing Native CDFI intermediary that offers financial products and development services to Native CDFIs and Native communities. In addition to basic banking services and training in financial literacy to underbanked Native American, Native Hawaiian, and Alaska Native communities, Oweesta provides capital support by directly investing in Native CDFIs to propel sustainable job creation and entrepreneurship, commercial real estate development, and affordable housing and homeownership.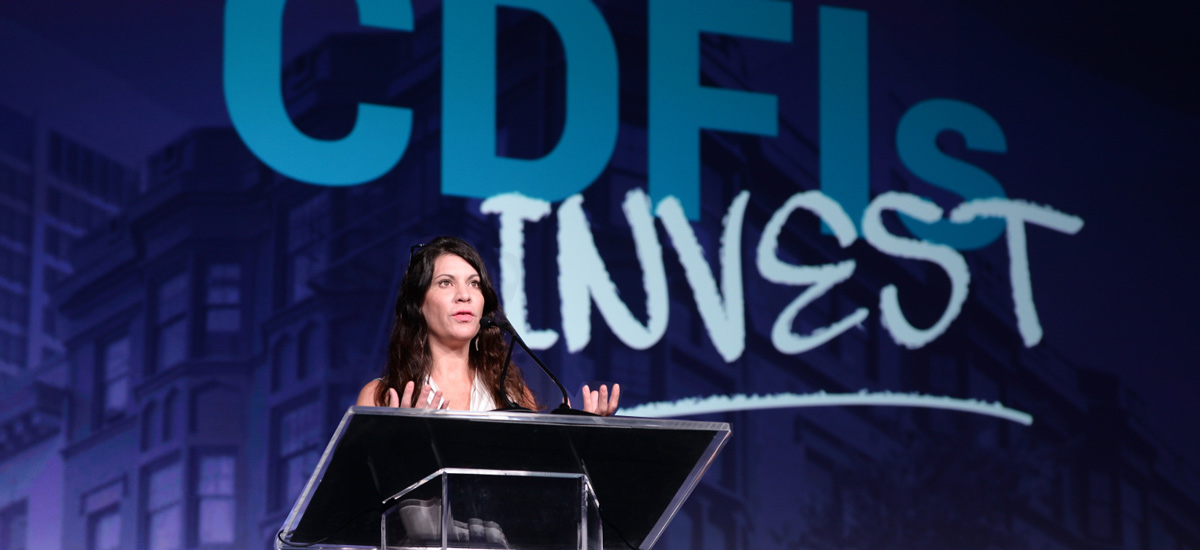 Oweesta has been a leader in the field since its founding 20 years ago by First Nations Development Institute. Oweesta was created to address the lack of capital and financial infrastructure that was holding back economic development in Indian Country. Our Foundation funded Oweesta's recent publication "Snapshot 2018: The Growing Native CDFI Movement," which reports that in 2017, Native CDFIs closed 3,461 loans totaling $55 million, $28 million of which went to individuals or businesses on reservations. (To read the full report, download it from Oweesta's Publications and Webinars page on its website.)
Along with funds, Native CDFIs offer wrap-around, community-based services that are designed to empower borrowers. Education and one-on-one support are essential to building the capacity of borrowers and clients—and by extension the strength of communities overall.
Oweesta plans its future initiatives based on the guidance and needs of its Native constituency. As the organization stands at its landmark twentieth anniversary this year, its mission to see Native communities realize their full economic potential remains a vital part of building strong, permanent institutions to serve Indian Country. Oweesta's executive director, Chrystel Cornelius, expects Oweesta to grow exponentially in the housing field to meet the growing demand of homeownership requests within tribal communities throughout the nation.

Shared values cement strong partnerships.
We share Oweesta's belief that with access to appropriate resources, Native peoples have the capacity to create sustainable well-being—economic, spiritual, and cultural—in their communities.
That's why we partner with Oweesta in two ways: as a grantee in our Native CDFI portfolio, and also as part of our mission investing.
No Native communities left behind.
Oweesta strategically chooses the site of its annual convening. As Chrystel Cornelius sums it up, "Invisibility is a huge factor in our industry. Of the 573 federally recognized tribes, Native Hawaiians are the most invisible. We wanted to show our solidarity as a people and as an industry while we lift up a segment of our Native brothers and sisters who have truly been left behind."
Oweesta is thrilled to have partnered with the Sovereign Council of Hawaiian Homestead Associations (SCHHA) and the Center for Indian Country Development (CICD) at the Federal Reserve Bank of Minneapolis for this event. The convening will feature speakers connected to SCHHA and CICD, as well as a tour of local Native community initiatives on the Anahola Homestead.

How the convening and livestream help weave connections.
One of the central goals of the three-day convening is to nurture peer relationships—between CDFIs, between investors, and between CDFIs and investors. One way to achieve that is the simple act of gathering people together for three days; but convening events are also designed to help nurture ongoing partnerships. These relationships lead to game-changing alliances that support the cultural and economic wealth of Native communities.
Weavers from Nā Mea Hawai'i—a community-centered organization dedicated to sharing information about the culture, language, and traditions of Hawai'i—will teach participants how to weave lauhala. This sharing of Native culture will be accompanied by facilitated conversations among the convening's attendees, creating a moment of shared learning and connections.
Convening events are also designed to help nurture ongoing partnerships. These relationships lead to game-changing alliances that support the cultural and economic wealth of Native communities.
The second day will feature a facilitated closed-door funder and investor session. It's a chance for current and potential CDFI funders and investors to discuss investing in Native communities and Native CDFIs. They'll share best practices, ask questions about investing in Indian Country, forge connections with their peer investors, and explore the next steps toward investing. They'll then report back to the full convening with their discussion highlights.
"The Manatee Tank," a convening session inspired by Shark Tank.
The last day of the convening will include a Shark Tank–style session that will be part of the livestream. Aspiring Native CDFIs will give brief presentations and "manatee" (friendly as opposed to shark-like) investors and funders will ask questions and discuss investment in the presenting organizations.
The takeaway: Indian Country as a sound placement of investment with incredible impact.
In addition to building lasting connections among participants, Oweesta has organized the convening to spotlight that Native CDFIs are proven and promising partners for financial institutions and other investors. And those investments drive change and make a sustainable difference in the self-sufficiency and financial and cultural well-being of Indian Country.
New this year: convening events shared via livestreaming.
Even if you aren't traveling to Hawaii, you can be part of Oweesta's fourth-annual convening. A number of events will stream on Facebook Live, including plenary remarks from:
Chrystel Cornelius, Executive Director, First Nations Oweesta Corporation
Maheen Qureshi, Financial Capability & Housing Outreach, Freddie Mac
Derek S.K. Kawakami, Mayor, County of Kauai
Clifford Rosenthal, Principal and Managing Director, Archer+Rosenthal Consulting, and author of Democratizing Finance: Origins of the Community Development Financial Institutions Movement
2019 Native CDFI Capital Access Convening
June 25–27 in Lihue, HI
The event has passed