Our business intern, Monika Nestor-Maldonado, a second-year student in Dougherty Family College at the University of St. Thomas in St. Paul, MN, reflects on her journey to NWAF, DEI, and what it means to be a first-generation American.
Like millions of others, I've lived with imbalances in DEI and their consequences. I've known since childhood that this world isn't equitable for people like me—a young woman of color in the United States, the child of immigrants, the daughter of a single mother who works two jobs.
A journey of discovery.
Only more recently did I start to understand that the world isn't equitable for most people. The Foundation's core values and mission—supporting organizations rooted in the culture of the people they serve and dedicated to expanding economic opportunity in under-resourced communities—align with my own philosophy to life. Poverty is a concept I understand from direct experience, so I'm particularly excited about the Foundation's goal of helping people achieve sustainable prosperity that can bring stability to future generations.
That's what brought me to the Foundation in February 2019, marbled journal in hand, for an internship.
Journaling is an important way for me to chronicle my experiences. On the inside front cover of the journal devoted to my Foundation internship, I taped the handwritten, unsigned note I found on my desk the day I arrived: "Welcome, Monika! We're so glad to you have you working with us. Have a great first day!"
JOURNAL ENTRY, 02/12/19 (my second day at the Foundation)
It's 10:29 a.m. and so far I've met with Matt (I think that's his name) about accounting stuff, and it doesn't seem as hard as I thought it would be. I guess anything math related has always instilled an irrational fear in me.
I'm really excited to be here because I actually feel welcome. All this new stuff feels really intimidating to me still, but I am ready to accept new challenges if it means I can have a better future.
A journey in higher education.
I finished my first year toward an associate degree at Dougherty Family College (DFC) in May. As part of the University of St. Thomas, DFC provides a two-year transition to a four-year college degree for students who experience financial, academic, and social hurdles to higher education.

One of the career development aspects of DFC is connecting students to internships and other professional opportunities. Surveys, tests, and interviews indicated that the Foundation internship was a good fit for me. So, using a resume and cover letter I wrote in a professional-development class, I applied. And then, happily, I found myself starting a new chapter in my work life—following jobs at restaurants, Target, Cub Foods, and a nonprofit, all since I began working two years ago at age 16.
JOURNAL ENTRY, 02/19/19
After a long, question-filled conversation with Matt, I feel a lot better about what is expected of me as an intern. It's awesome that I'm not expected to know everything already. I think the coolest part about this internship is that everyone is patient with me while also not treating me like a child.
A journey toward access for all.
Every day I see and feel how a lack of inclusion creates spaces where people of color feel unwelcome or uncomfortable. That's one reason I'm glad the Foundation is on its DEI journey, and that it's sharing glimpses into the journey for others to see.

A DEI mindset and the actions that back it up are vital to all of us. Our country tells itself a story of democracy and equality for all. But for a society to fairly represent everyone in it, we must all be reflected, not just the group of people who have access.
JOURNAL ENTRY, 05/07/19
I need to follow up with the people I met at the Inclusion Summit who gave me their business cards. BUSINESS CARDS! I NEED THEM? I'm also going out to lunch today so I'm excited about that.
A journey with family.
My mom is a strong, intelligent woman. She immigrated to the US when she was young, moving to Minnesota to be near her brothers. I know she's capable of accomplishing anything, but she doesn't always see herself that way.
She downplays that she's worked for years at a printer-assembly company, but can also renovate a house from the studs out. She's fierce. Yet she has told me, through tears, that she feels inadequate as a mother because she couldn't teach my two older brothers or me English or help us with our homework past fifth grade. Those who don't speak Spanish can unfairly perceive her "broken English" as an indicator of supposedly low intelligence.
These incorrect labels are damaging—not only to her, but to others in the same position of speaking English as a second language and living in a new and different culture. Knowing this inspires me to pursue a career that will directly work with families like mine: helping parents find work, helping children navigate the school system, or helping families survive with one less stressor on their plate.
JOURNAL ENTRY, 05/17/19
I feel at home in Seattle [where I'm attending an NWAF board retreat]. I'm meeting some great people whose stories are so similar to my own. They're open and honest about their trauma, which allows me to feel like I could not only share my own, but also that there are always people in my corner. I also know that I can succeed while still carrying that weight with me.
A journey to a career.
When I was a little kid growing up in South Saint Paul, I envisioned myself having an awesome career as an astronaut or maybe a doctor. Yet I felt isolated as I struggled with my identity as a mestiza; perhaps that's why I connected mostly with my white friends. As I moved into my teenage years, my optimism waned. I didn't even see myself making it to adulthood. I thought I was going to wither away.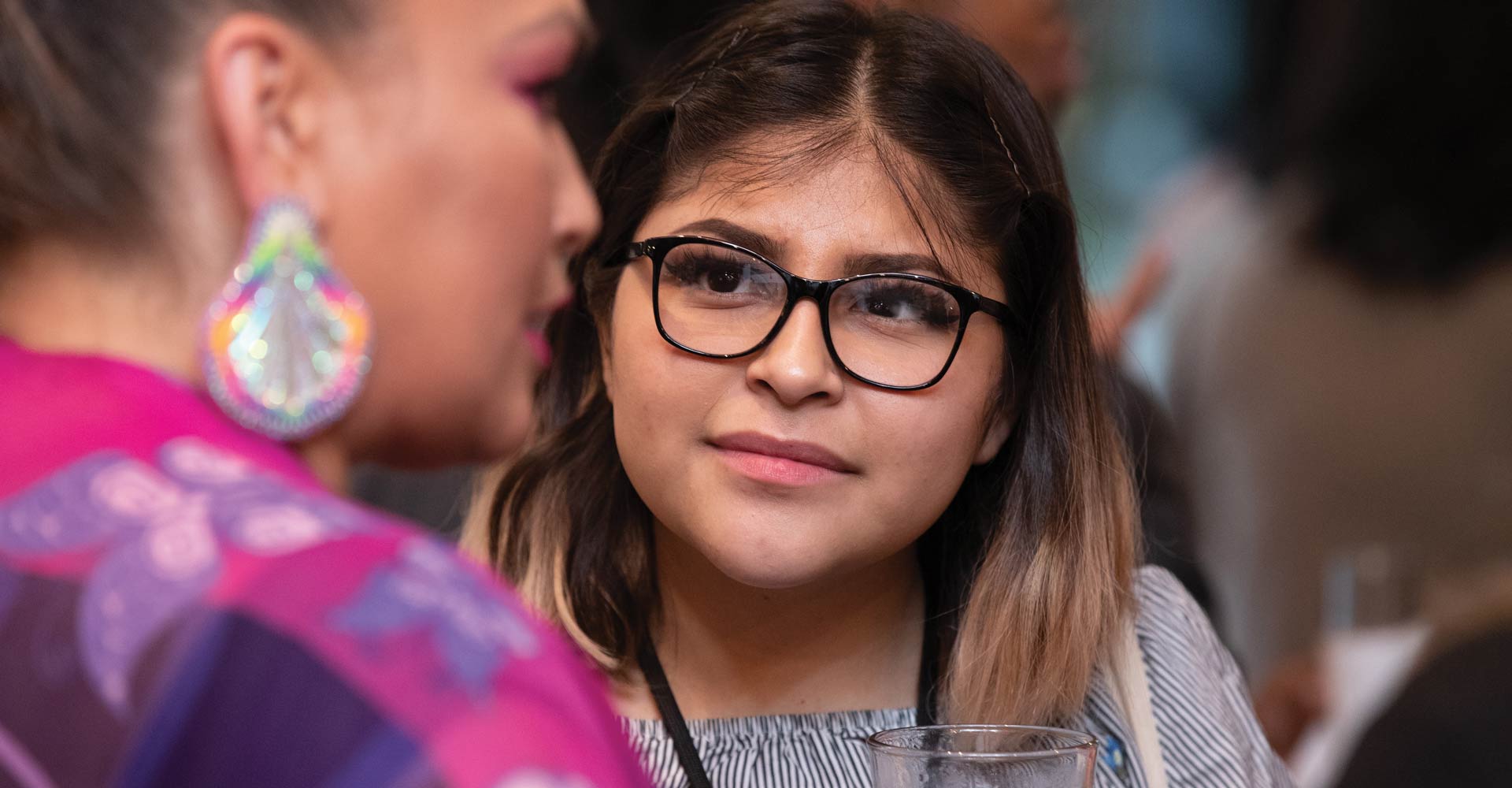 But here I am. I don't know where my career will take me, but I suspect I may end up doing something I never could have imagined. That's certainly true of this internship.
I'm enjoying getting to know everyone at the Foundation. The initial plan was that my internship would include working with Matt Stowell, the Foundation's controller; Alli Naithani in HR; and Karen Appelbaum, the operations director. But given my interest in DEI work, I'm also getting to spend the summer working with DEI Manager Margie Jo Eun Joo Andreason.
JOURNAL ENTRY, 05/22/19
The board retreat was last week in Seattle, and it was awesome! I'm thinking that it would be good to talk to Alli about maybe writing a formal piece on my experience on the retreat and what I learned. I'm finally starting on some of my summer work here at NWAF. I am really excited to see where all this awesome work takes me.
I'm not sure yet what all I'll take away from this internship experience when it ends in May 2020. I hope I'll at least have a better understanding of how I, as an individual, can take action to make the world a more equitable place for all people. Seeing how the Foundation pursues its mission through grantmaking and advocacy for its priority communities will equip me with the knowledge and vocabulary to understand social change in more formal, institutionalized ways. It will also, I believe, instill a new level of confidence in my capacity to discover and explore new skills.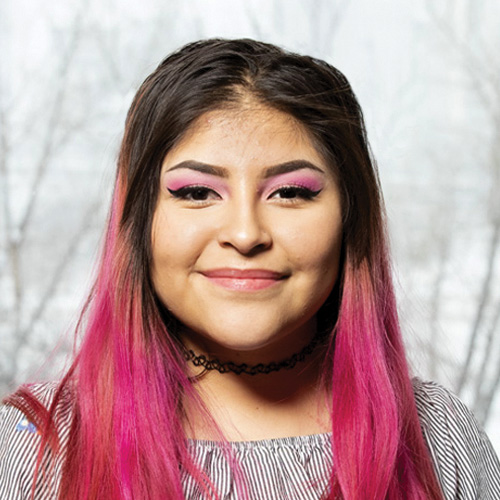 Monika Nestor-Maldonado
Business Intern, Northwest Area Foundation
THE FOURTH BLOG ENTRY IN OUR SERIES
Insights on Our Journey: A DEI Blog Series
Our Foundation has made a commitment to advance diversity, equity, and inclusion (DEI) in our region. This is the third in our series of blog entries that reports on what our staff are thinking as we make our plans. It's a way of bringing you, our stakeholders, along as we take this journey.
PHOTO (top): Business Intern and DEI Blog Writer Monika Nestor-Maldonado with Board Member Father Larry J. Snyder, vice president for mission at St. Thomas University in St. Paul.