Craft3 was founded by John Berdes and Mike Dickerson in 1994 in the small coastal community of Ilwaco, WA, just a few miles north of Astoria.
Established in 1811, Astoria is the oldest city in Oregon, and it prospered on the area's rich natural resources—furs, timber, and salmon. Those resources didn't last forever, however, and in the 1980s and 90s, dwindling salmon populations and the Timber Wars shuttered canneries and mills.
John and Mike started small with a handful of loans to restaurants, construction firms, commercial fishing outfits, and other businesses in and around Ilwaco and Astoria. Craft3's founders hoped to use capital as a tool for social good by making loans to support people and places that have been left out of the region's prosperity.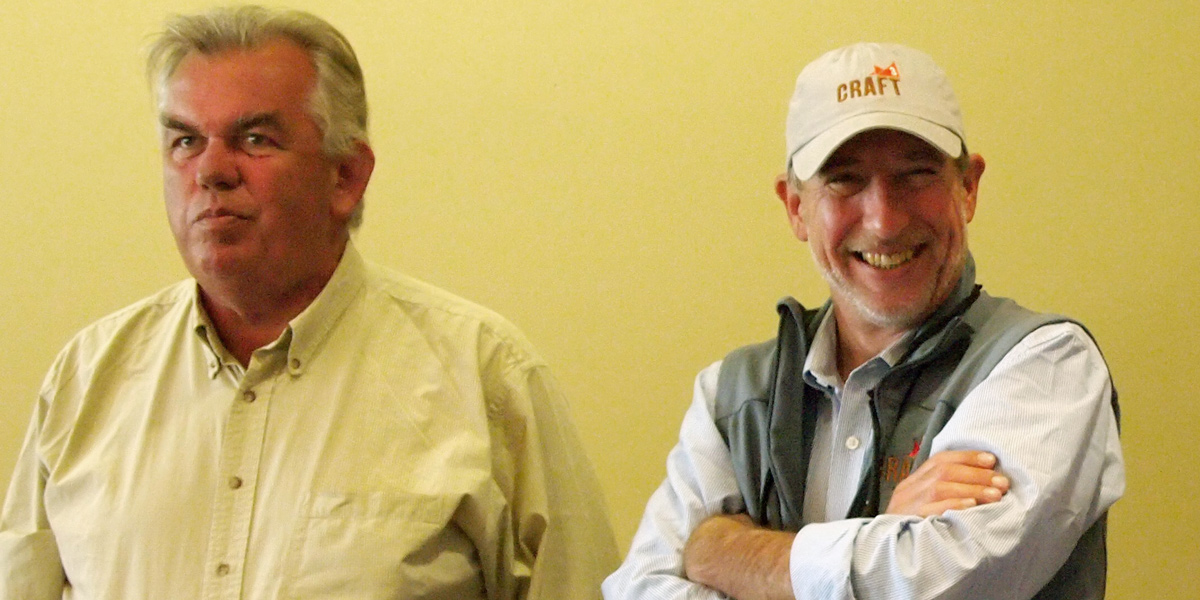 Craft3 cofounders, Mike Dickerson and John Berdes
From the early days, Craft3, a community development financial institution (CDFI), believed the organization needed to embed itself in the community. As it built a portfolio of loans, it also built trust, developed deeper ties in Astoria, and got greater access to "change agents": entrepreneurs, whether in the private or public sector, with a vision and at least a healthy down payment on the human and social capital they'd need to turn their idea into reality.
For much of Craft3's history, the Northwest Area Foundation has been a funder and investor in the CDFI.
In Astoria, it's hard to walk a block without bumping into a Craft3-financed project.
Project by project, and year by year, Craft3 gained experience working in the community of Astoria and delivered significant impacts. Driven by a commitment to finance entrepreneurs unable to get bank financing and guided by a triple-bottom-line approach—focused on social and environmental impacts as well as economic ones—Craft3-financed projects brought good jobs, built housing, and gave Black, Indigenous, or people of color (BIPOC) and women entrepreneurs a chance.
Craft3 has financed more than 90 projects that span Astoria. The Mill Pond Village, Clatsop Community College, and Astoria Armory projects have profoundly changed the city. And two significant, recent Craft3 projects are continuing to transform Astoria's waterfront and bolster its economy with living-wage jobs and opportunities to build careers.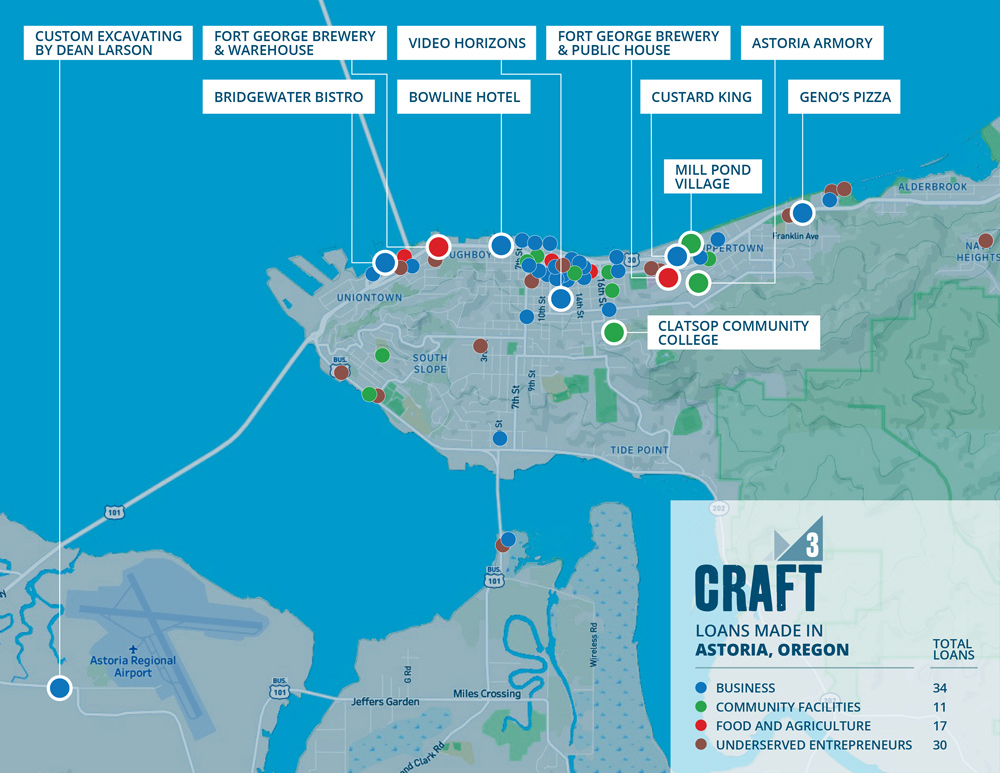 LIVING WAGE.
A person can work full time at a minimum-wage job and still struggle to make ends meet. Craft3 defines a living wage as the wage necessary to cover basic household needs (food, housing, health insurance, transportation, childcare, and other necessities) plus all relevant taxes for a family of three. For 2021, Craft3 set the living wage threshold for Oregon and Washington at $50,000 per year.
Tiffany Turner, CEO of Craft3 client Adrift Hospitality, says, "We see our business as a vehicle to strengthen the community."
The Bowline Hotel, a low-slung, simple structure where 9th Street meets the river, looks like it's always been there. In a sense it has. Formerly a seafood processing plant, Bowline Hotel was reincarnated by Adrift Hospitality as a boutique hotel. It opened in 2021.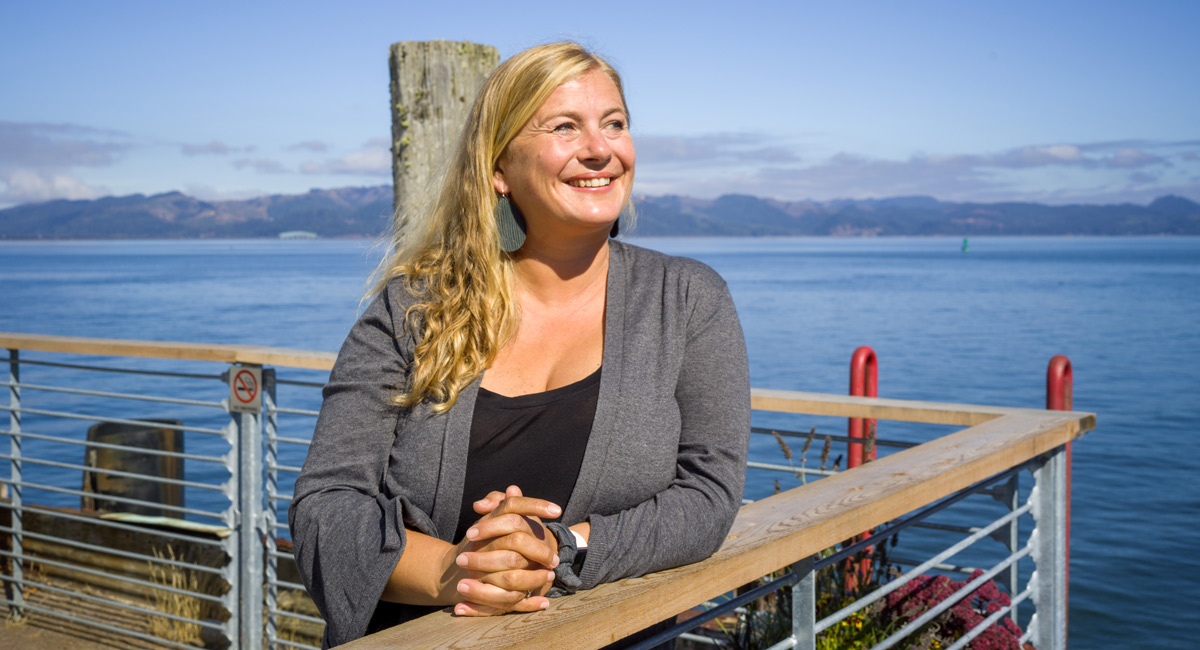 Tiffany Turner, owner, Bowline Hotel
Tiffany Turner—whose properties include two other hotels, an inn, cottages, a restaurant, and, just for good measure, a distillery—is driven, full of energy, and devoted to Astoria and the region.
Even though Tiffany and Adrift had successfully renovated other properties, banks wouldn't finance the construction of the Bowline Hotel because the building was on pilings and deemed too risky. Tiffany explains, "Craft3 stepped in, and not only did they give us a significant sized loan for their portfolio, but also they haven't shied away from challenges banks would have shied away from."
Craft3 stayed the course during COVID.
Perhaps the biggest challenge was the COVID pandemic and its associated shutdowns and uncertainty. Tiffany recounted the Bowline Hotel's COVID chronology with precision, remembering the exact day she laid off most of her employees, the day the governor shut down indoor dining and then hotels, and the day she began rehiring. Before the pandemic, Adrift employed 114 people; today it employs slightly more and, like many local businesses, it's hiring briskly.
Craft3's loan to the Bowline Hotel closed in January 2020, and construction was underway in March 2020 when COVID-related public health measures shut down much of the economy. Tiffany recalls, "The first thing Craft3 did was they didn't panic. They basically said, 'We need you to pause [and take stock].'"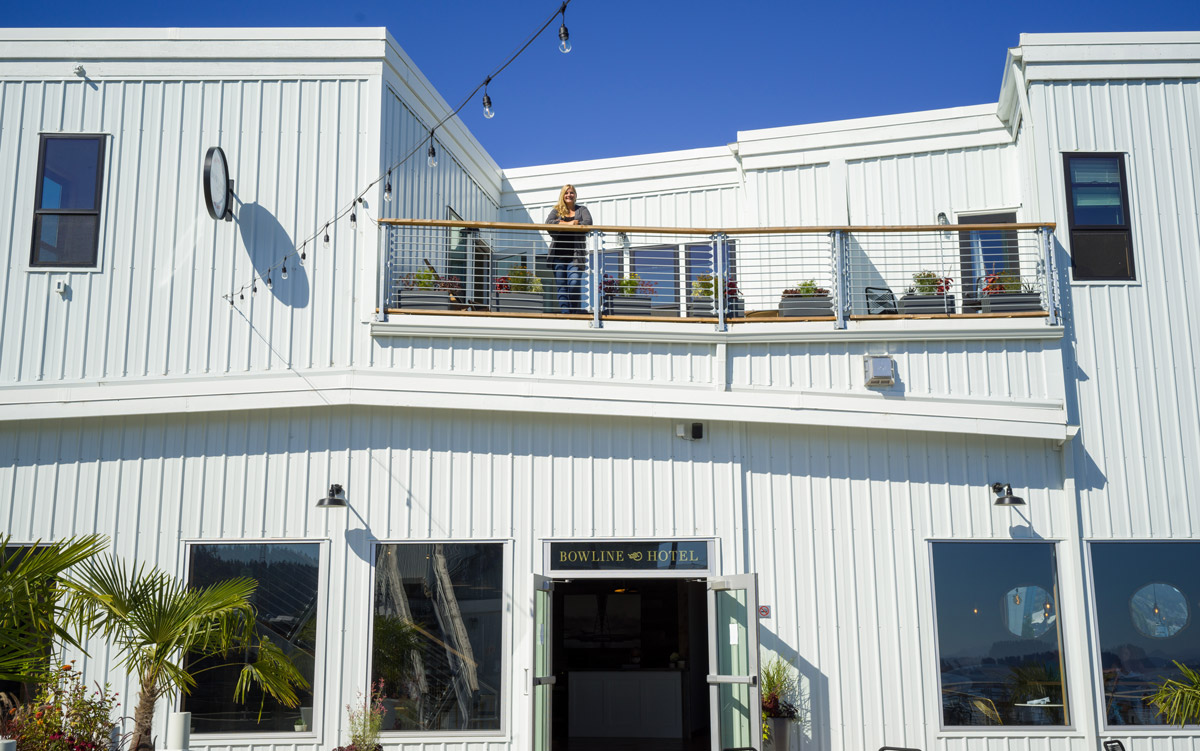 During this pause, Craft3 reassessed Bowline's financial condition. They found it to be sound and resumed financing, with just a few minor changes designed to reduce Craft3's risk, while ensuring Bowline got the funding it needed. It's worth noting that all lenders account for risk when deciding whether to approve a loan, and if so, how to structure that loan. CDFIs, in general, can make "riskier" loans because they hold less debt than banks and can thus absorb higher loss rates.
Adrift is an important regional employer, providing many living-wage jobs that offer possibilities for growth and advancement. Tiffany is proud that most of the management team has been promoted from within and that the company's management positions are overwhelmingly filled by women.
Financing a brewery has turned Astoria into a "fermentation mecca."
When Chris Nemlowill, the cofounder of Fort George Brewery, gives a tour of its new brewing and canning facilities, what really shines—more than the gleaming fermentation vessels or the automated canning machinery—is his pride in the people he works with and in Astoria. Founded in 2007, Fort George Brewery has been wildly successful and played a crucial role in turning Astoria into, as Chris puts it, a "fermentation mecca."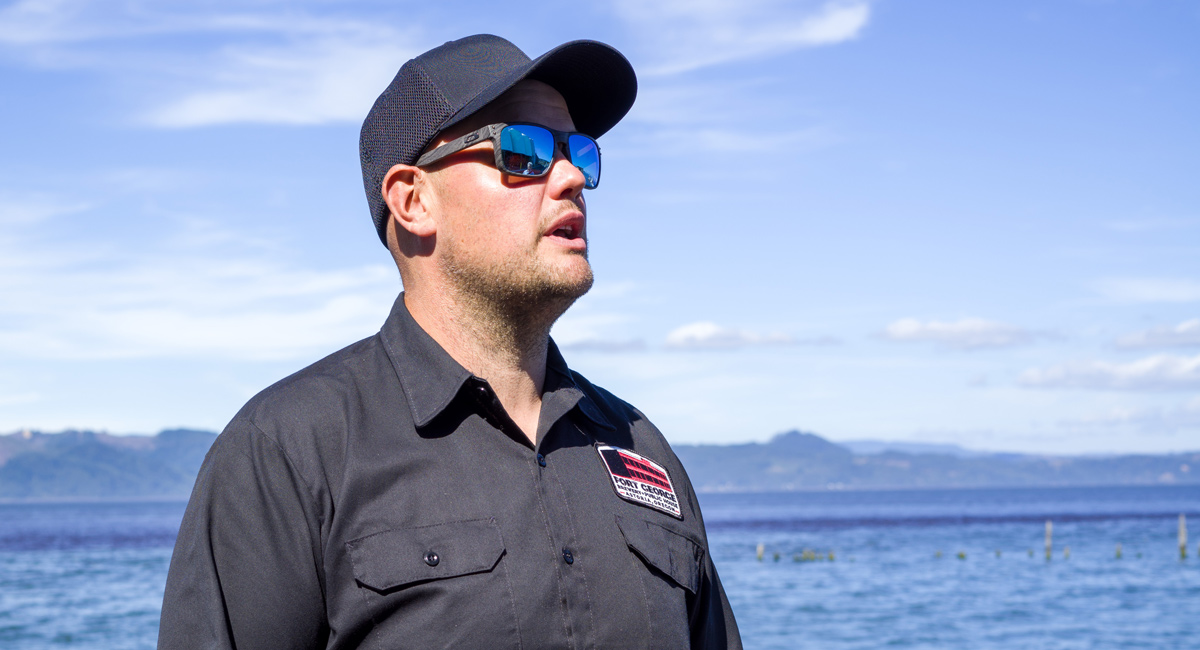 Chris Nemlowill, cofounder, Fort George Brewery
Chris's vision of success is strikingly similar to Craft3's vision for community development financing. Chris explains, "We want to be one of the best places you can get a job on the West Coast. 
"Success means people feeling like they can come work here for 30 years, and retire from Fort George, and know that, as long as they are here, they have a path to continue to grow, and live, and raise a family in a strong community. That's my definition of success."
"We want to be one of the best places you can get a job on the West Coast."
Chris Nemlowill
Cofounder, Fort George Brewery
Craft3 is a forward-looking financial partner.
By all accounts, Chris has succeeded. Fort George Brewery employs around 120—all living-wage jobs—and they're hiring as quickly as they can. Fort George, like Adrift, has also tended to promote from within. Chris notes with pride that "the entire management crew started off in the kitchen, washing dishes, sweeping the floor."
Despite rapid growth and a reputation for brewing some of the best beer on the West Coast, Fort George Brewery has had trouble finding financing. "We were such a fast-growing company that we scared off traditional lenders," says Chris. "That's where Craft3 stepped in." They helped sustain the brewery several times at really crucial points.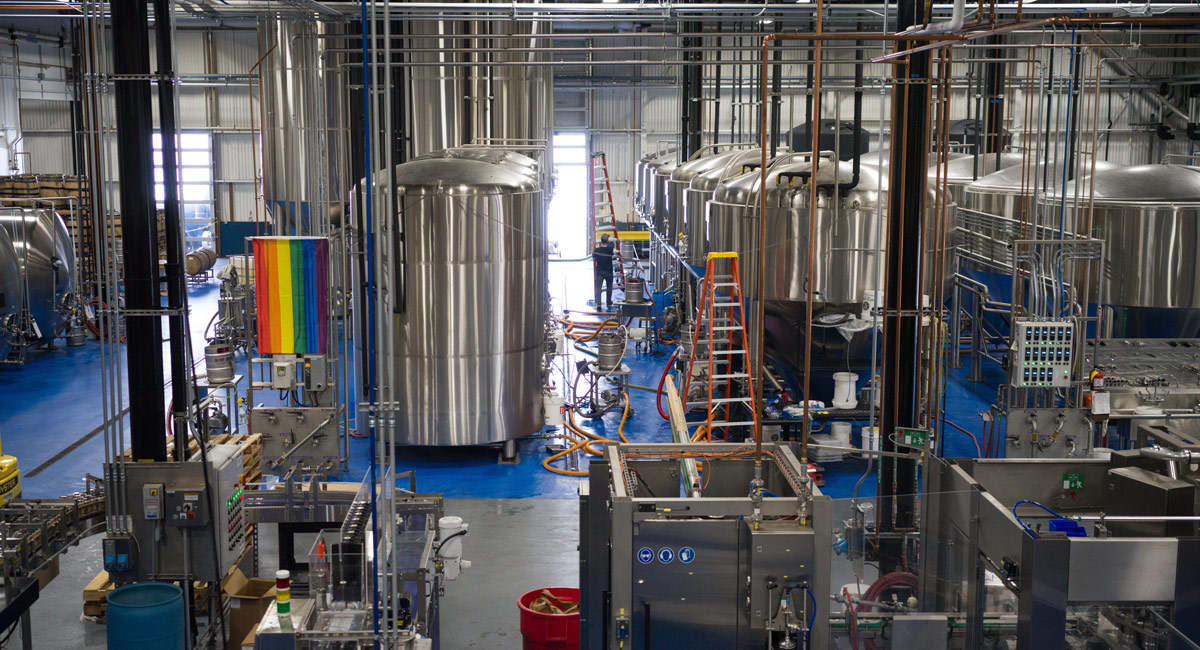 When banks evaluated Fort George Brewery, they likely didn't see sufficient collateral, despite strong cash flow, and they assumed 20–30 percent annual growth wasn't sustainable. Craft3 approaches underwriting differently. Rather than looking in the rearview mirror, they also look ahead, using income and expense projections to evaluate prospective loans.
It's this approach that's enabled Craft3 to make two loans to Fort George Brewery prior to the larger New Markets Tax Credit (NMTC) investment that financed their new canning facility. Smaller loans in 2010 and 2012 allowed the brewery to invest in equipment, build out their restaurant space, and purchase a cold storage facility.
"The assistance they've given us at crucial times is probably the difference between Fort George being just a small operation, versus being a growing business that pays a living wage to over 100 people in this community," says Chris.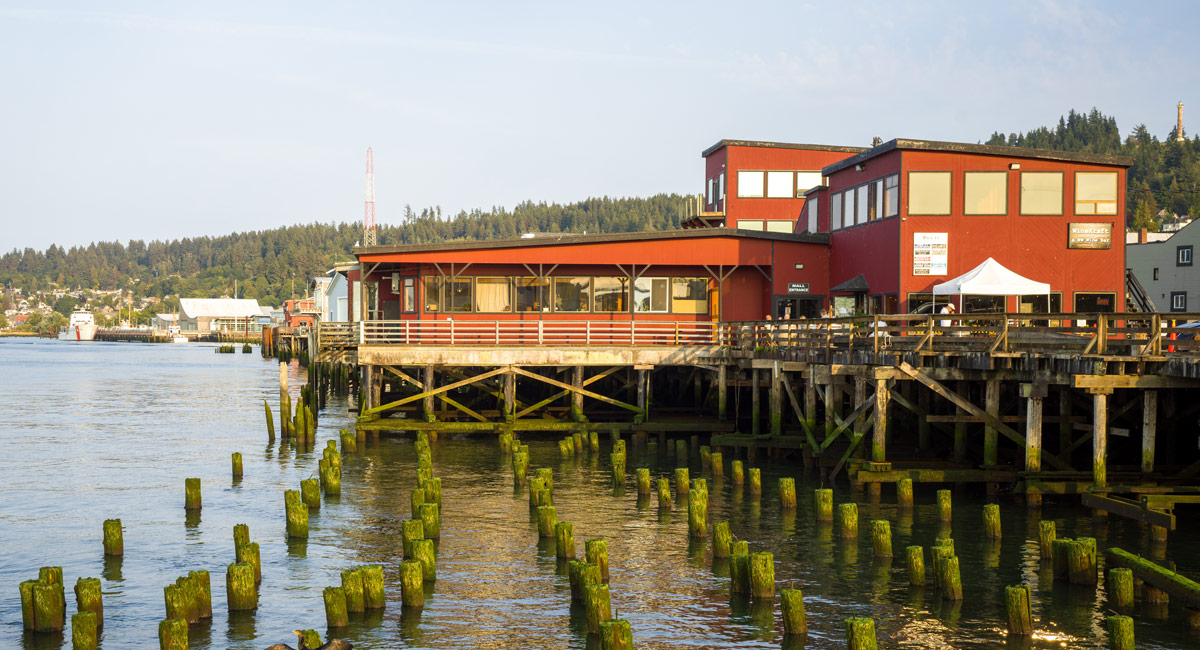 Lending is always about the future.
Reflecting on her experience and on Astoria, Tiffany concludes, "In rural areas there are a lot of people with good ideas, and not a lot of people to help shepherd them into the 'how.' . . . I think Craft3 is definitely at the forefront of helping people navigate those challenges."
As Tiffany's and Chris's experiences show, many entrepreneurs face challenges when it comes to accounting, bookkeeping, and financial management, but there's a more fundamental challenge that often holds people and communities back. Quite simply, many entrepreneurs are deemed too "risky" and are unable to qualify for bank financing. A low credit score, insufficient collateral, or incomplete financials can make an entrepreneur unbankable and put them in a position from which it's hard to recover.
For Tiffany, "There has to be a way that we can make . . . [financing] more accessible while still mitigating risk." Making capital more accessible is key to Craft3's mission.
Underwriting may sound mysterious, but the concept is simple. It's all about assessing financial risk and assigning a price or fee for taking on that risk. Before banks or CDFIs make a loan, they use an underwriting process to account for the anticipated risk, decide whether they can offer financing, and if so, at what rate and terms.
Craft3 was founded on the idea that responsible capital, carefully allocated, could help communities and individuals chart a path toward a future of shared prosperity and increased opportunity. A portfolio of loans is, at its heart, a series of investments in the future.
One of Craft3's insights into lending seems to be that if you want a future that will be different from the present, you can't make lending decisions solely based on history. Over more than two decades of lending in Astoria, Craft3 has financed entrepreneurs and community projects that have compelling and practical visions for the future. At the same time, most of these projects had one or more factors that kept them from qualifying for bank financing.
A willingness to underwrite and think about risk differently is essential for community financing. Craft3 has embraced this role and internally the CDFI talks about how it's in the business of taking on risk. It's also in the business of rethinking return, as not just financial but also as encompassing social and environmental impacts.