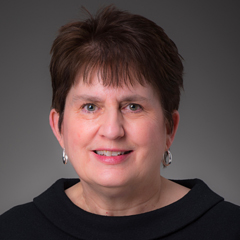 Elisabeth Buck is passionate about reducing poverty through community collaborations. She has spent most of her career in service in the government and philanthropic sectors. With over 15 years in executive leadership, she has culminated her career to date with her role as president of the United Way of Central Iowa.
Buck began her career in state government. For more than 20 years, she worked primarily in the offices of elected officials, including two attorneys general and two governors' administrations. She was deputy chief of staff to Govs. Chet Culver and Tom Vilsack. In 2007, she became director of Iowa Workforce Development, Iowa's fourth largest state agency. As the agency's chief executive, Buck navigated the complicated state and federal systems during a recession to ensure Iowans received comprehensive, quality, and seamless services.
Buck's efforts are not limited to her work endeavors. She is also committed to community service. She serves on many boards and committees, most notably as cochair for OpportUNITY group, along with board positions for Iowa Caregivers and Iowa Heritage Trust.
Buck holds a bachelor's degree in political science with a minor in economics from Iowa State University.