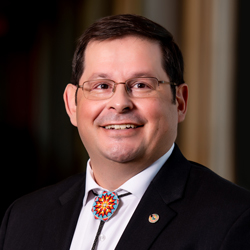 Wayne Ducheneaux II is executive director of the Native Governance Center, a Native-led nonprofit dedicated to assisting Native nations in strengthening their governance systems and capacity to exercise sovereignty. He's led the Native Governance Center since it was founded in January 2016. He enjoys guiding the Center's work, building relationships across sectors, and envisioning transformative futures for Native nations.
Ducheneaux, an enrolled member of the Cheyenne River Sioux Tribe, grew up on his parent's cattle ranch on the Cheyenne River Indian Reservation in South Dakota.
He brings a deep and real-life understanding of Native nations' needs, opportunities, and challenges to his work, thanks to his previous experience serving in a variety of roles for his tribe: In 2008, he became general manager of the Cheyenne River Motel, a tribal enterprise. He went on to become the administrative officer for his nation's government, overseeing the Cheyenne River Sioux Tribe's day-to-day operations from 2010 until 2012. In 2012, he was elected by Cheyenne River Sioux Tribal citizens from District 4 to serve as a Tribal Council Representative for a four-year term. He also spent two years as his nation's vice chairman (from 2012 to 2014).
Ducheneaux is a graduate of the Native Nation Rebuilders program, which brings together Native leaders to learn about innovative tribal governance practices, strengthen their leadership skills, and connect with others who are passionate about building a brighter future for their nation.
When Ducheneaux isn't helping Native nations acquire skills, training, and resources to support their citizens, you'll find him alongside what he's most proud of: his wife and children.