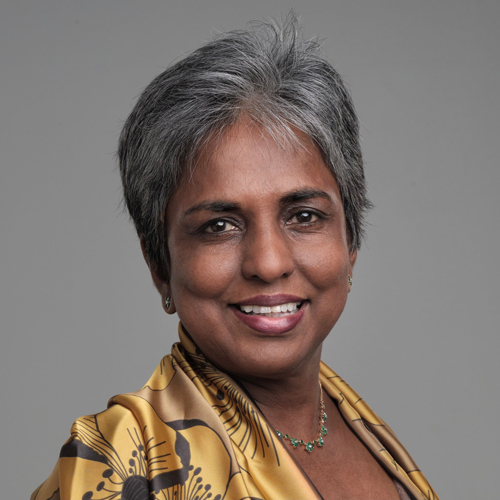 "I believe successful leaders build and nurture diverse teams for the best outcomes."
Ramya leads the Foundation's financial and administrative operations and supports the board's investment and audit committees. She plays a key role in integrating diversity, equity, and inclusion (DEI) and justice across the Foundation.
She has over 30 years of experience leading finance, accounting, IT, risk management, and treasury management teams in the corporate and nonprofit sectors.
A native of Sri Lanka, Ramya began her career as a chartered accountant working in public accounting and tax management. She then shifted to the corporate world, spending 13 years with Energizer Co. USA (formerly Union Carbide Corporation) in Colombo, Sri Lanka, where she was treasurer and CFO for seven years. In 1999, she moved to Minnesota, continuing her career with U.S. Trust Company (now Bank of America) in Minneapolis and becoming a certified public accountant.
Ramya transitioned to the nonprofit sector through management consulting work in feasibility studies for hospitals and then as finance manager for Lutheran Social Service of Minnesota. Most recently, she served as the CFO of YWCA Minneapolis. In 2017, she was named CFO of the year by the Minneapolis/St. Paul Business Journal.
She is deeply devoted to promoting equity. As a woman of color who earned her education outside of the US, Ramya herself has experienced what it's like to be part of communities that are marginalized in the US. That, along with being raised in a family that values alleviating economic disparities in communities, instilled in her a passion for racial and social justice.
She credits her years working within YWCA's compassionate value system to helping her flourish on her own DEI journey. She strives to incorporate DEI into every aspect of her life, including her work as a board member for two organizations: OneVillage Partners, a Minnesota nonprofit working to catalyze community-led transformation in rural Africa; and St. Paul-based Venn Foundation which makes program-related investments to advance charitable impact.
When she isn't working, you'll find Ramya traveling and experiencing new cultures—or relaxing while she listens to music and reads. She lives in St. Paul with her husband. Their daughter attends law school in Virginia.